Here is a simple little 8x8 layout I did for a friend. It's almost too cute to give away. I should have made 2!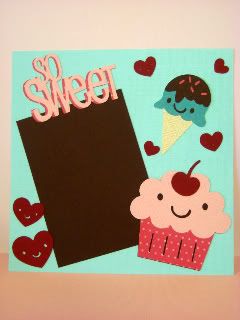 Cartridges used:
Once Upon a Princess: title (2.5")
Sweet Treats: icecream cone (3")
Create a Critter: smiley heart (.5-1.25"), icecream face(from 2" smiley heart), cupcake(3.25")
The cupcake frosting and icecream cone are embossed with folders from the asian cuttlebug set. Click to view larger image.