This handy little 10 page 4.5"x6" clear acrylic stamp album houses all 26 sets of monograms from Studio G series 23. To make this stamp album you will need 9"x12" acrylic sheets from
Accucut.com
. I quartered them into 4.5" x 6" and punched 10 holes along the 6" side and bound the book with 1.25" black O wires with my Bind-It-All. I also rounded the corners with the Crop-a-Dile Corner Chomper 1/4" side. You can also use the blue Round-It-All from
Zutter
. I would reccomend making the album with 8-9pages though. 10 was just a tad too bulky with all the stamps in, but I needed the pages to fit the entire 5 font alphabet in.
Front view:
The ribbon does not need to be untied. It can just be slipped off and on. It stays attached through some eyelets in the back cover.
Back view:
Inside page: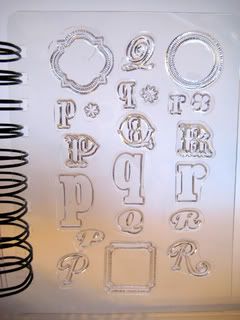 If you mount the clear stamps facing down on left hand side of the book as you look at it when opened, you will be able to see the images facing correctly when you flip the page back to the right hand side.
What a cute way to keep your clear stamps accessible for use. You can display your clear stamp collection along with your craft room decor! You can also purchase an
8x8" kit from Zutter
...But I like this smaller one better. It was a LOT cheaper than $19.99 plus shipping. I did not come up with the idea, I just made it a lot cuter and cheaper. Hee hee!